Miniature Motor Selection on Demand
Portescap has released the MotionCompass™, a virtual environment that allows users to configure specific motion needs, compare performance across motor technologies and select an optimal mini motor solution. By inputting the basic application parameters (speed and torque), the MotionCompass generates motor recommendations for Brushless and Coreless Brush DC motors. All data is dynamically generated in real-time based on the product specifications. Users can compare performance metrics (Speed, Efficiency, Power and Current) and confirm the optimum solution for their application.
A unique feature of MotionCompass is the ability to assign weights to the four key performance parameters, which directly impacts motor recommendations. The intelligent algorithm, developed based on years of experience and application know-how, recommends a set of ideal motor solutions to maximize application performance. Additional motor parameters, such as diameter, efficiency and current requirements, gearbox and feedback options etc., are available to further enhance and narrow down recommended options that meet specific application needs. This iterative and dynamic process enables users to engage in detailed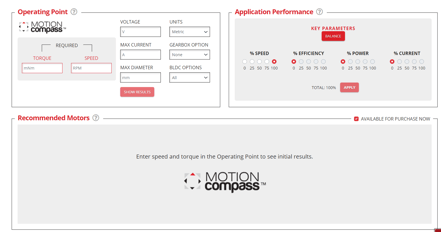 product (application) configuration sessions and test out multiple motion control possibilities.
MotionCompass is fed by a broad database of Brushless and Coreless Brush DC motors and associated gearboxes to provide an array of solution possibilities. With the "Available for Purchase Now" button selected; you can view recommendations of products that are able to be ordered on-line in our new E-Store. The price and lead time for each recommendation is listed with a shopping cart link to take you to the product page on the E-Store.
MotionCompass puts the power of product configuration and selection in the hands of the user. Real-time product recommendations based on user inputs provide the ability to evaluate a multitude of options and determine the optimal motor for the application. Users can fine tune application parameters and evaluate performance impact on-line without ordering samples to test in live application – eliminating the iterative qualification process. Hours of pouring through catalog data has been replaced by minutes of time spent on-line, with a depth of data not previously available, to enable faster decision making. With products available to purchase on-line, you can begin evaluating your motor recommendation in a few weeks.
Portescap provides local application support and expertise to assist customers in optimizing motor selection for their applications.